Saving Dollars, Saving Lives
Health system adds modern labs to consolidate operations
Edward Caruso Photography
Northwell Health, a healthcare system based in Long Island, New York, recently constructed two automated facilities as part of a period of testing growth (estimated to be between 250 and 400 percent), which includes three hospital mergers and several physician practice acquisitions over the past two years. The Northwell system now encompasses 23 hospitals and 3,300 physicians, as well as several lab spaces and a program for outsourced lab services. Core Lab New York (CLNY) is a groundbreaking private/public partnership between Northwell Health and the NYC Health + Hospitals system, designed to reduce healthcare costs by consolidating services. The state of New York's largest private health institution is able to process up to 20 million tests per year. The new LNP (Little Neck Parkway) site is a 36,000 sq. ft. facility dedicated to biological testing and functioning, and serves as the hospital system's close connection to New York City. The second facility is a renovated 101,000 sq. ft. space in Lake Success, which is used for chemistry-related testing—this unit is housed within a one million-square-foot building that houses Northwell's Center for Advanced Medicine (CFAM). The CFAM offers full automation lines for chemical testing from sample receipt, sorting, aliquot into analyzers (testing), and then to storage and retrieval for additional testing.
The two-building project was completed in February 2019. The project team consisted of Flad Architects (architect of record, design architect, and lab planner); WSP Group (MEP engineer); Leslie E. Robertson Associates (LERA) (structural engineer); VHB Engineering, Surveying & Landscape Architecture PC (civil engineer/transportation), Cerami & Associates (acoustics), Rowan Williams Davies & Irwin (RWDI) (wind/wake analysis), Outsource Consultants (expediting for LNP facility); RMB Development Consultants (expediting for CFAM facility); and Hunter Roberts Construction Group, LLC (construction manager).
Cutting back to cut costs
Northwell partnered with Flad Architects to conduct a thorough feasibility study, including a full-scale site assessment and zoning analysis as well as design services for a full complement of technologically advanced laboratories. "Saving dollars for healthcare on testing and samples" was the critical need behind this expansion, says Jim Gazvoda, lead planner, principal, senior lab planner with Flad Architects. He describes how the start of Northwell's public/private partnership was marked with isolated facilities located around the New York City area, which meant a waste of money and resources, and therefore a consolidation was needed. "The larger the volume, the easier it is from a cost perspective," says Gazvoda, adding that this can be accomplished by lowering the amount of square footage in hospitals and clinics, and eliminating redundant equipment and sample management capabilities. "Consolidate that and make it more efficient, more productive, [and deliver] quicker turnaround times back to the doctors so they can start curing people," he says.
Northwell and Flad utilized a Lean workflow approach to consolidate laboratory functions by lowering healthcare costs through testing consolidation, which resulted in lower cost per test, and improved turnaround time by providing faster results to both doctors and patients. Outdated testing facilities, older automation lines, and old equipment platforms were replaced in order to produce more modernized flows and control. Labs were updated and improved to allow more efficient use of space and flow of materials in order to produce more effective tests, and a flexible design plan ensures that spaces will be able to accommodate future technology and equipment advancements and changes without requiring a complete renovation.
The LNP building was awarded LEED NC (New Construction) Gold in June 2019, and the CFAM is in the process of pursuing LEED CI (Commercial Interiors) Gold. "We obviously are using more water efficient fixtures, and we used a lot of high recycled content materials, regional materials, low emitting VOC materials," says Grace Han, project architect with Flad Architects. She adds that the site selection plays a role in sustainability as well, due to its close proximity to public transportation.
Adapting to a COVID-19 world
Edward Caruso Photography
The CFAM was an existing building, still occupied by current operations. Newly renovated areas were isolated from these existing operations so that they could still function during construction. The design/build team also had to address potential hazardous conditions on the CFAM construction site, says Han. "We were building over contaminated ground," she says, describing how the existing depressurization system meant that excavation needed to include testing. "We also had to incorporate into our design any future excavation that needed to be done that prevented delays in construction." The existing floor slab was trenched for new plumbing lines and floor drains, therefore the removed soil needed to be stored. New, clean back fill was used in its place, says Han, because testing the existing soil would've wasted valuable time. The lab design had to be coordinated around the existing SSDS (sub-slab depressurization system) monitors and piping. It was a "lesson in coordination," says Gazvoda. "They had existing monitor wells—we had to monitor not only above the slab but below the slab."
Technology changes quickly, says Gazvoda, and this also played a role in the design and construction of the two Northwell facilities. Some testing procedures are automated while others are still operated manually, he says, and "the key is learning how to provide all those functions in the same type space so they coexist."
Another thing that necessitated quick changes was the worldwide COVID-19 pandemic, which was first identified in the U.S. in early 2020. The initial design and planning behind the CFAM laboratory allowed for quick alterations in the overall layout, and this allowed for the installation of equipment that was able to accommodate COVID-19 testing. In order to convert the labs' operations to COVID-19 testing, six new molecular and serological platforms were installed, and workflow changes enabled storage for processing (and eventually discarding) all COVID-related viral transport tubes, blood tubes, and lateral flow systems. An extra-wide service corridor lined with electrical raceways was repurposed with additional refrigerated equipment. Additionally, all items within the lab—including furniture, desks, workstations, equipment, warehousing, accessioning, waste facilities, and environmental controls—were designed to be moved and reconfigured easily right from the start. Frequently spaced ceiling utility panels in the labs provide dedicated power and data to equipment and electrified lab benches, which means that the floor plate can be as open as possible for easy reconfiguration. Negative pressure is provided throughout all lab spaces for containment and safety. Large AHUs with redundant capacity are installed, and so is an emergency generator for uninterrupted support in the event of failure. All of these systems are controlled through an extensive BAS/BMS, enabling modification on an as-needed basis in order to accommodate new analytical platforms. Separate gowning and de-gowning areas are located in the locker areas so that staff can don their disposable PPE before heading to their respective workstations. The initial facility plans for the utility, mechanical, drainage, supply distribution, and waste removal systems all factored into this quick changeover, and the project's initial preparations with flexibility in mind allowed for a smooth transition into a whole new lifestyle and workspace. "In my opinion, this preplanning has paid large dividends in our ability to rapidly address the COVID-19 testing," says Richard Seaberg, Northwell Health's director of business services.
Worker health, patient health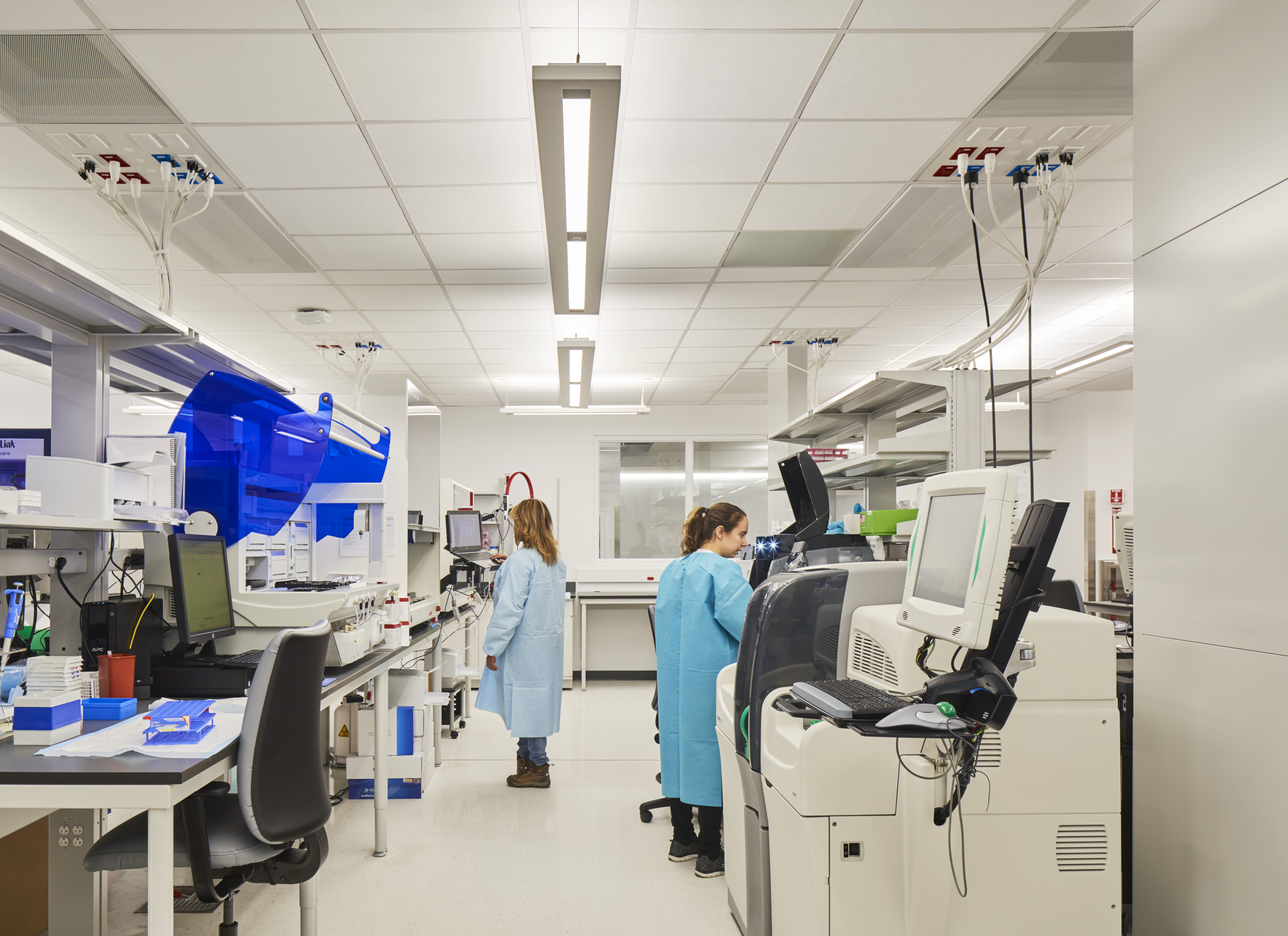 Edward Caruso Photography
Northwell's modernized facilities contain a number of programmatic and design features that are crucial to a clinical testing facility (core lab). The operational concept portion of the design considers the staffing model, including hours of operation and work-shift strategies, as well as safety protocol and proper cleaning procedures. It's also vital to the success of such facilities to accommodate a logistical plan for a sample chain of custody, as well as equipment-related optimization issues including backup strategies. A safety and containment strategy was developed in order to incorporate standard operating procedures, and cross-contamination controls address functional separations of special testing needs. Healthcare and testing facilities such as these must also remember to consider security and special systems which require controlled access, equipment monitoring and alarms, data storage, power supply redundancy, and backup strategies. "The highest level of contamination control we can do is minimizing human touch," Gazvoda adds, describing how manual and semi-automatic systems work together to create an efficient use of space. "The ability to integrate fully automated to semi-automated and fully manual operations all in the same place … it's a lab planner's dream come true."
Another important aspect to the design plan, he adds, is the quality of the workplace environment. All functional user groups were invited to give input about their future lab space. The open labs utilize glass to let in light and create visibility between workers, a necessity when working a high-pressure job. Screens mounted throughout the space keep teams updated on each other's progress. The goal is to "create an environment that keeps them in touch with the whole process of saving peoples' lives," Gazvoda says, noting that a pleasant work environment not only improves public health but leads to better turnout and hiring rates at healthcare-related companies. "You become part of the system of saving people. It's not only just the physician that's doing it … you're part of the process that's saving people's lives."
"They're people spaces, they're not just instruments," he adds.