The Benefits of Teaching Forensic Science Virtually
Rutgers-Camden's Kimberlee Moran makes strides in online learning and opens course to Rutgers Law School students for first time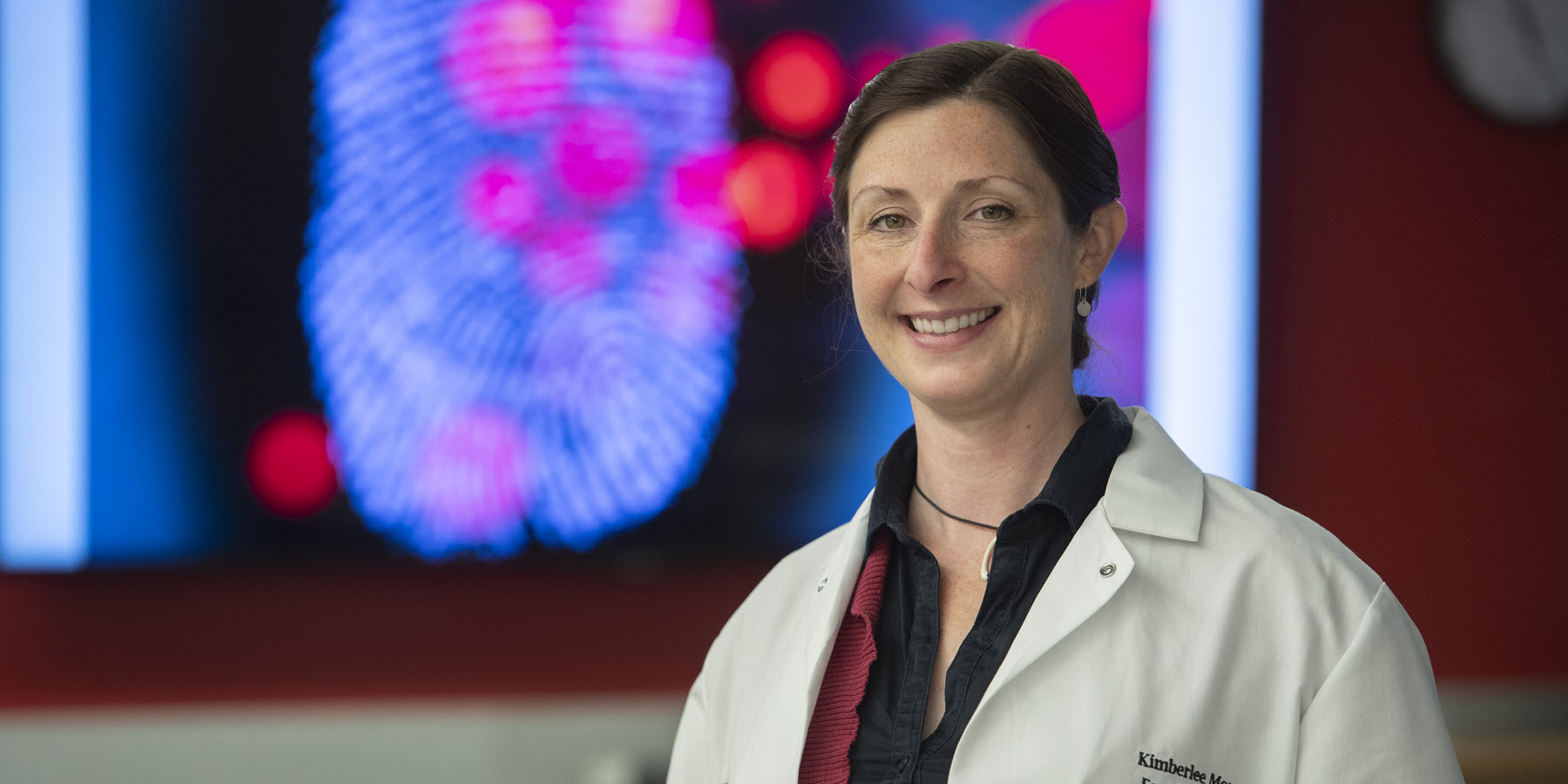 Nick Romanenko/Rutgers University
In her eight years of teaching forensic science at Rutgers University-Camden, Kimberlee Moran never had a class with perfect attendance and student participation.
Coronavirus changed that.
After she spent 150 hours over the summer overhauling the online curriculum for one of her courses—Forensic Science Theory and Policy—following a weeklong workshop offered by the Office of Instructional Design and Technology (IDT), she saw the results in her classes.
"Every single student went to every class and every student turned in every assignment, which never happens," she said of her success with all-remote instruction. "I had so much more engagement in class, and the students seemed genuinely more enthusiastic."
Based on the pointers she received from IDT, Moran, an associate teaching professor and director of forensics with the Department of Chemistry at Rutgers-Camden, flipped the way she teaches. Her students review updated material on their own and attend weekly one-hour synchronous video discussions to build on those lessons.
Now, this fall she is building on the summer's success. She found a workaround to large weekly lab activities that are part of her Forensic Patterns Evidence course, which focuses on what she calls "cop science"—assessing fingerprints, footprints, tire prints, ballistics, and blood spatter—by taking advantage of a closet-sized space in the Science Building. Students who live within driving distance of campus schedule weekly solo lab time to work on their assignments in a socially distanced way.
First-year graduate student Sherifat Alaka, 24, said she did not know what to expect from Moran's virtual patterns class.
"I was worried that I wouldn't get the hands-on experience that this forensic science master's program was known for, but this course went above my expectations," said the Queens, NY, resident and forensic science major. "Professor Moran provides us with standard operating procedures for each lab to instruct us on how the lab should go, which is exactly how it would be in the real world. The blend of asynchronous and synchronous material for this course has also been great. After every lesson, I am excited for the next."
Connecting law and forensics students
Moran also realized that virtual learning offers her new teaching opportunities and more accessibility for the first time to Rutgers Law School students both in Newark and Camden. She thinks this course, also facilitated by Rutgers Law School distinguished clinical professor J.C. Lore, is the first of its kind in the country to pair up prospective lawyers and scientists for mock trial exercises.
Contrary to what crime scene dramas lead us to believe, Moran said, there is a disconnect between lawyers, who have a limited knowledge of forensic evidence, and forensic scientists, who have limited experience with lawyers' lines of questioning.
"The lawyer will be better at her job because she understands the expectations and role of the forensic scientists. The forensic scientists will be better at what they do because they understand the role of the lawyer," said Lore, who adds that this experience has made him a better professor and lawyer. "When forensic science is done well, the legal system can get the right result. When it is done poorly or shouldn't be done at all, it puts our legal system at risk for getting the wrong result including the wrongful conviction or exoneration of a person."
It's why the course's intense mock trial experience—where the law students question the science students on the specifics of a "case"—is so valuable.
"This class is probably more amazing than it was before," said Moran, who has 26 arts and sciences students and 13 law students enrolled this fall, "and it's pretty revolutionary for law students."
At first, Moran saw the all-virtual format as a challenge, but now she realizes it adds new possibilities to how she can teach when she takes a new approach.
Building online teaching best practices
Nick Romanenko/Rutgers University
"I knew zero about online best practices. I did exactly what IDT told me to do and the results were astounding," she said. "It's easy to sit there and give a two-hour lecture in a classroom. But to write it all up, hyperlink it, and insert videos takes a lot of time. I spent hours just scrolling through the infinite catalog of YouTube to find the perfect seven-minute video to illustrate what I was talking about. And if I couldn't find it, I'd have to make it myself."
The mother of two boys ages 12 and 14 also took some cues from their remote learning experiences when planning for the fall.
"I'm no longer stuffing my students heads with information during long lectures, and they are more engaged with it," Moran said. "I have seen how hard it is for my own children to sit for long extended periods in front of their devices and how important it is to see their teacher."
She realized it's important for professors and students to "see" each other during their remote classes and learned some tricks to help make it happen. It can be hard to convince college-age students to turn on their video in Zoom or Webex and be seen by their professor. But taking a tip from IDT, she changed the automatic camera setting from "off" to "on" for her video meetings and found when most students enter the classroom with their camera on, they usually leave it on.
This summer, she also learned to integrate two tools into her curriculum using the Canvas Learning Management System, which supports online learning and teaching—Hypothesis and PlayPosit. Both build more interactivity and accountability into the work she assigns by forcing students to stop and answer a question or make a comment instead of plowing straight through when they are doing work on their own, which can lead to moments of zoning out or skipping ahead.
Some of the changes she has made since the spring have been so effective, that Moran plans to make them a permanent part of the way she teaches.
"Moving forward in a post-COVID world, I might very well keep this model, because it so clearly works better," she said.
- This press release was originally published on Rutgers Today