Adventurer Family of Analytical and Precision Balances
OHAUS Corporation, a leading manufacturer and marketer of high quality balances and scales, announces the launch of the all-new Adventurer analytical and precision balances.
The Most Complete Balance in its Class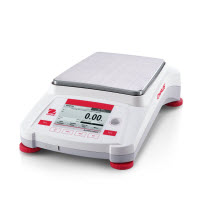 Adventurer, the most complete balance in its class, combines its many functional features with ease-of-use to provide accurate weighing and measurement results for a variety laboratory weighing needs.
Stability, accuracy, and fast operation are the trademarks of the new Adventurer. This trio of characteristics ensures the most important aspects of routine laboratory weighing are covered: accurate results you can count on extremely quickly.
Adventurer has nine application modes, including weighing, percent weighing, counting, checkweighing, dynamic weighing, totalization, formulation, density determination, and display hold, which can fulfill most laboratory weight and measurement determination needs and eliminate the need for complex manual calculations.
The balance can be set up simply through Adventurer's color touchscreen. Equipped with a virtual QWERTY keypad, the screen offers direct access to operating the balance as well as inputting user profiles such as sample, user, or project name as well as GLP and other application data, and responds to the touch of a gloved hand so operators do not have to remove their gloves to use the balance. Adventurer also has six mechanical keys that provide tactile feedback and provide one-touch operation of repetitive processes such as tare, zero, calibrate, and print.
Adventurer's space-saving draftshield doors are constructed of two glass panels, reducing the space required on the lab bench when the doors are open. Additional benefits of the draftshield include wide side entry and smooth-gliding top mounted doors that are protected from debris build-up and easy-to-clean.
Adventurer is equipped with standard connectivity options, such as a front USB host port for loading results, including GLP data, from the balance on to a flash drive, and a second USB in the rear of the balance for connecting the balance to peripheral devices such as a printer or PC. Additionally, the USB port can be used to setup multiple balances by exporting the profile from a master balance and transferring it to other Adventurer balances.
Additional benefits of the Adventurer for laboratory professionals include stable and reliable weighing results, fast stabilization time, real time clock for GLP/GMP applications, and the fully automatic internal calibration system, AutoCal™ on select models. To learn more about the all-new OHAUS Adventurer, visit www.ohaus.com/adventurer.
---
OHAUS Corporation
7 Campus Drive
Suite 310
Parsippany NJ 07054
973-377-9000
www.ohaus.com