A Global Movement Defining Sustainability in Laboratory Cold Storage
Winners of the 2022 International Laboratory Freezer Challenge share what they've learned and what the experience has meant to them
The annual Freezer Challenge competition, organized by the nonprofit organizations My Green Lab (MGL) and the International Institute for Sustainable Laboratories (I2SL), urges labs to adopt sustainable cold storage practices. Since 2017, participants in the challenge have saved 24 million kWh worth of energy, reducing CO2 emissions in the process by 16,796 metric tons1. Participation in the challenge has grown steadily each year, and 2022 saw 1,239 labs from 27 countries take part. Together, their actions saved an estimated total of 9.5 million kWh, approximately equivalent to the energy consumption of 1,310 homes over one year, and 6,732 metric tons of CO2 emissions.
Photo provided by Central Veterinary Laboratory
Participants are provided an activity scoresheet and encouraged to set their own pace and engagement level. Activities are aimed at reducing cold storage energy usage while improving sample accessibility, risk avoidance, and long-term cost savings. Example actions are minimizing door openings through detailed inventories, optimizing space utilization to reduce the number of required units by clearing out old reagents or samples, reducing compressor cycles by raising the set point in ultra-low temperature freezers (ULTs), defrosting units, or improving heat exchange by cleaning coils and compressors. Among common lab equipment categories, cold storage is the second most energy-consumptive equipment group after fume hoods. The Freezer Challenge was founded to address this outsized energy impact.
"Labs have been saving money, the research administrator on call gets less calls at 2 AM for failing freezers..."
This year saw greater diversity in participating labs globally, with far more hospital and clinical labs and higher numbers of biotech, pharmaceutical, and academic labs. Awards spanning 19 categories recognize labs and organizations of varying size, focus, and industry, including "Honorable Mentions" and "Winning Streak Awards" for repeat winners. A dozen challenge winners have shared their experiences, motivations, achievements, and takeaways from the competition.
Opening a dialogue on best practices
Photo provided by Amgen
While participants report a myriad of motivations for joining the challenge, nearly all agree it's perfect for opening discussions and engaging colleagues in sustainability efforts. As Fiona Hogan, green labs specialist at the University of Virginia (this year's winner of the Top Academic Organizational Award), points out, the challenge is a great opportunity to promote cold storage best practices, while increasing safety, facilitating research, and hitting sustainability goals. Nick Ciancio, who oversees the Green Labs Program at the University of Alabama at Birmingham (UAB), adds that the challenge demonstrates that "we can have sustainable and effective cold storage practices, that not only help the researchers do research better, but also help us … save money [and] get recognition for the work that we provide." Avani Ramachandra and Katie Lindahl from the Amgen Massachusetts Pivotal Biologics Lab, winner of a Biopharma Lab Award, said it was "a catalyst to getting more staff involved and to see big leaps in improvement in our freezers."
"It's another way to grow and improve and find your gaps and just get better."
For some high-profile labs, the challenge presented an opportunity to validate their current practices and recognize the efforts of staff while leading by example. Three sector-based Biorepository Award winners, the Indiana Clinical and Translational Science Institute (Indiana CTSI) specimen storage facility at the Indiana University School of Medicine, the AstraZeneca South San Francisco (SSF) Biobank, and the Biopathology Center at the Abigail Wexner Research Institute at Nationwide Children's Hospital, all report using the opportunity to review their own best practices with an eye to demonstrating their value to other labs.
Photo provided by the Biopathology Center
Photo provided by AstraZeneca
Robert Orr, the Indiana CTSI specimen storage facility director, appreciated the impact quantification, having focused heavily on lab optimization, and found the experience to be encouraging and validating. The challenge highlighted the sustainability of their best practices for sample integrity and freezer maintenance while helping to prioritize additional high-impact initiatives for next year. The facility currently serves as a model, and Robert sees their participation as the first step in identifying the most impactful actions in reducing the carbon footprint and maximizing lab savings. He hopes this recognition will help push all IU labs across the state of Indiana to be more efficient and environmentally conscious. "It's the seed to make this grow."
Photo provided by Indiana CTSI Specimen Storage Facility
The AstraZeneca SSF Biobank has also aimed to establish and promote sustainable practices in line with AstraZeneca's net-zero target. Given the biobank's core focus on long-term storage and sample integrity, senior scientist Raul Rios says the challenge "provides a pathway for education, awareness," both in learning about the needs of other labs and sharing best practices with researchers who spend less of their day contemplating cold storage details.
The Biopathology Center at the Abigail Wexner Research Institute, a 252-freezer biobanking operation, wanted to "celebrate and recognize" their 180-member team's efforts to "reduce waste and save resources wherever feasible," according to Diana Thomas, MD, PhD, the pathology operations director, and Mary McNulty, Distribution Manager. The challenge also helps the biobank "operate as responsibly as possible and demonstrate that all actions that help increase efficiency and reduce energy waste are valuable."
Expanding engagement
The effectiveness of the Freezer Challenge as a conversation starter is evidenced through the rapid expansion of the program, with the number of participating labs quadrupling from 2021 to 2022 and more than doubling the energy saved year over year. This trend is represented within some of the returning organizations, as greater awareness and recognition have brought more individual labs to the table.
Photo provided by Dr. Upender Manne Lab
Hyung-Gyoon Kim, PhD, with the Dr. Upender Manne Lab in the Department of Pathology, University of Alabama at Birmingham (winner of an Academic Lab Award) said he learned about the Freezer Challenge from UAB and the lab next-door, which participated the previous year, after asking what all the activity was about. He jumped on the opportunity to do the same with his lab.
Interest in the competition grew within Amgen, which won the Top Biotech/Pharma Organizational Award with 18 participating labs spread across seven sites globally—up from last year's four participating labs at two Amgen sites. "The participants last year and the cold storage improvements they made were a big motivator for all of the additional participants we had this year," explains Joanie Burns, environment, health, safety, and sustainability manager. "Hands down, the biggest benefit to participation is that it raises awareness." And it's still spreading. "A lot of other labs and in some cases entire functions or organizations are looking at making collective efforts to further improve cold storage."
Photo provided by Boston Children's Hospital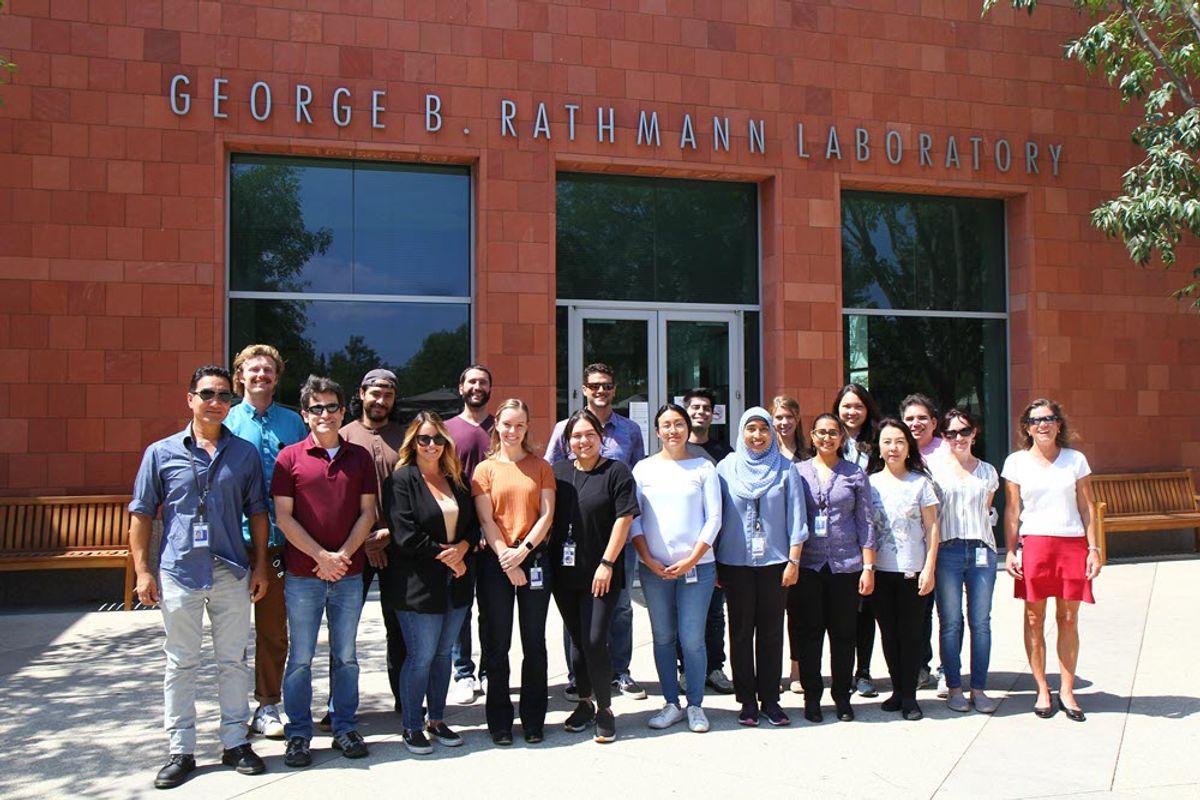 Photo provided by Amgen
Julie Sesen, PhD, participated in 2021 as part of the Edward Smith lab at Boston Children's Hospital (BCH) but led an organizational effort as the head of BCH Green Labs this year that won the Top Clinical Organization Award. "I think my lab was about 20 kWh [saved] per day. But with participants from [across the hospital] this year, [the impact] was 463.8 kWh per day saved. That's amazing." She was joined in her efforts by Chuck Blanchette, research operations capital equipment manager, who oversees a fleet of 700 lab-owned cold storage units and could help spread the word to individual labs. One strategy involved initiating conversation when he saw people defrosting freezers, asking if they knew about and were following the steps outlined in the challenge. They expect greater participation next year, thanks in part to the added visibility and recognition from this Freezer Challenge award.
" Every small step helps."
At Indiana CTSI, Robert Orr hopes to spread the specimen storage facility's practices through developing avenues within Indiana University, including a lab optimization steering committee with executive support and a new quality assurance core service, to reach across silos and establish university-wide best practices, policies, and procedures to optimize integrity, efficiency, and sustainability. Additionally, there exists an opportunity to share their best practices with other CTSIs at organizations across the U.S.
The little things that make a big difference
Photo provided by NSW Biochemical Genetics Service Laboratory
While the idea of tackling neglected ULTs on top of a normal workload might seem overwhelming, the challenge highlights the small, easy actions that can have a huge impact. "I think there are some preconceived notions that these things are really difficult or that they don't make a huge difference," but when people realize the benefits of actions as simple as checking gaskets or looking for excess heat or noise, the obstacles shrink, according to Fiona at UVA. She also notes, though, that it can be difficult to divert the time and attention required amongst competing interests. "Take advantage of all of the great resources and ideas and don't feel like you have to do everything all at once," Joanie with Amgen advises. Adviye Ayper Tolun, PhD, Head of Department for the NSW Biochemical Genetics Service Laboratory, winner of a Clinical Lab Award, recommends working in as many energy- or resource-saving routines as you can in the lab. "Every small step helps. These little things, they all add up."
"Being sustainable doesn't always have to feel like you're doing a lot of work."
Many challenge winners said they didn't feel like they put in a huge effort. Hyung, for example, said he was excited to win the award, because returns on the minimal efforts from his lab were highly impactful in energy saving (83 kWh/day) and environmental effect. Additionally, Hyung said, these efforts "do not cost extra money or need heavy physical workload." And the BCH's participation, which Chuck and Julie feel consisted of small, easy actions, resulted in much greater gains than expected. Julie reflects, "we managed to save so much energy … I think that there was a great benefit with small actions only." Nick says other labs at UAB felt similarly, and summed it up with "Being sustainable doesn't always have to feel like you're doing a lot of work. This program really helps us foster that idea."
Tackling the larger jobs
Some labs choose to tackle several big jobs at once, defrosting freezers, sorting and discarding contents, and creating sample inventories simultaneously. This can be a heavy lift, particularly if a lab team is doing it for the first time. Planning and scheduling definitely help.
Photo provided by St. Vincent's Hospital Microbiology Lab and cropped to fit by lab manager
Photo provided by Biogen and cropped to fit by Lab Manager
Deirdre Quinn at the Microbiology Lab at St. Vincent's Hospital, winner of a Clinical Lab Award, recounts her team's challenging experience defrosting and inventorying their ULT for the first time, from locating a backup freezer to transferring samples between buildings. The full project took five or six staff two to three full days. "It is a big job. You need to have a good team. You have to roster some time for them to do it." Now that they have made the relevant connections across the hospital, gained experience, and implemented procedures, she expects future defrosts to be much easier.
Figuring out the logistics can be the main stumbling block for labs just joining in. While Raul has seen rapid but methodical changes in the Astrazeneca SSF Biobank, he heard about bandwidth challenges from other labs in their first year. Once connections are built with facilities and other teams that lend a hand as needed, those constraints disappear and following years run smoothly.
Photo provided by the Microbial Self-Healing Research Group
Avani and Katie of Amgen made the challenge a low-pressure group activity, tackling the big jobs in "freezer blitzes, where we put time on our calendars and got whatever lab staff was available to help out." These got them through all of the maintenance, defrost, and inventory jobs. "And since the freezer blitzes worked so well—and were fun thanks to the comradery—we will continue to do them to keep up the improved state of our cold storage!"
Scheduling continuing maintenance can help keep things on track. According to Mary and Diana, the Biopathology Center task itinerary is not difficult, but "does take detailed scheduling." The specimen storage facility has a very detailed comprehensive maintenance package that includes quarterly, semi-annual, annual, and biannual tasks. Robert says the preventative maintenance along with monitoring temperature trends on older equipment means they're able to proactively avoid freezer failures.
Generating large-scale buy-in
"There is no downside, only benefits to participants."
For larger organizations, generating buy-in across labs can be a challenge. Nick Ciancio and Emily Colpack, who together led the effort at UAB which saw over 140 labs join the challenge and saved 700,000 kWh, receiving a Winning Streak Award, have advice on this front. For Nick, the first step is to address research concerns and assure researchers that the sustainability office's interests are not in conflict with research interests. "We recognize that they come to UAB to perform this fantastic research, and we just tell them straight up that any recommendations we make won't compromise your safety [or] sample integrity."
Photo provided by the Van Der Pol Lab
Beyond that, Nick and Emily have found the spirit of competition, along with the collaborative and celebratory environment, to be very motivating. Nick explains, "I just really think that the Freezer Challenge is a fantastic way to get universities and hospitals and government institutions to collaborate towards making cold storage more sustainable in an effective way, but also a way that's, I think, really fun." Emily adds, "Yeah, I enjoy that friendly competition. It goes 'Oh, what did this school do, or how did they do? Did we do better?'" They build that out even further to help recognize the participating labs in their institution with an internal competition, complete with prizes. The grand prize is a new ULT. The best part: the calculated savings each year from the challenge more than cover the prizes for the following year.
Chuck at BCH says that seeing the impact has been very motivational for participating labs. "When you take the amount of energy you save and put it into something that everybody can relate to like the [energy] usage of a house, and where we saved as much energy as 16 houses, it really puts into perspective how great this program could be."
Photo provided by the Ostrander Lab
Overall, creating a positive, welcoming environment is cited by several challenge winners as key to success. As Fiona explains, "There's a lot of messaging in sustainability based in shame or guilt and I don't find that to be very effective. I think what tends to be much more effective is when people see themselves as part of the solution and … see how sustainability aligns with their pre-existing core values."
Raul says setting a positive tone and inviting people to join in has been instrumental in generating excitement and engagement in the Freezer Challenge, along with setting clear expectations around the potential workload and ensuring support.
Photo provided by Traidl-Hoffmann Lab
On-the-ground engagement is also very valuable. While Chuck engaged researchers in halls and in their labs, a strategy Nick reports successful as well, Julie advertised the challenge at monthly meetings and through mailing lists. Julie and Chuck also both participated in the challenge themselves, allowing them to compare notes with labs and create added resources, like videos.
For those unlikely to achieve one-on-one engagement with every lab, Fiona shares her strategy: "We advertise it broadly, but we definitely target certain labs that we know are high-impact areas." She also emphasizes that it is not a hard sell. "We have a lot of people who genuinely are passionate about sustainability and want opportunities to channel that passion. And when they find out that they can have a huge impact doing something like defrosting their freezer, they jump at the opportunity. They're excited to learn and to participate and contribute. So I think giving people the tools to channel that energy is really helpful."
Paving the road to success
For organizations to be successful in large-scale efforts, executive and logistical support is critical.
Fiona cites a supportive administration and a well-staffed sustainability office at UVA as the foundation to their program's success. Logistical support from a working group and departments like Environmental Health and Safety and UVA Recycling means resources to clear obstacles. "I'm really proud of the network in the community that we've built around green labs at UVA that makes these connections and resources more and more accessible for people to integrate into their daily lives."
Photo provided by University of Virginia
Photo provided by University of Illinois Urbana-Champaign
Efforts at AstraZeneca have included establishing connections and pathways between stakeholders to facilitate each lab's efforts. According to Raul, some early logistical struggles for labs include knowing escalation routes, who to contact in waste management or site services, or what processes and approvals are required to discard samples. Raul credits the success of the initiative to their safety, health, and environmental (SHE) manager, Deepa Kundadka, who spearheaded the challenge, set the tone, and laid the logistical groundwork facilitating involvement for individual labs.
"We learned and we made connections, so it was a very positive thing overall."
Providing labs with the physical tools they need can also speed efforts up considerably. Chuck manages around 30 back up ULTs available to researchers in case of freezer failures or defrosting events. Nick and Emily also make it as easy as they can for labs to participate, offering researchers free coil and filter cleaning services, tools for clearing frost, and dedicated ULTs for defrost backup.
The lasting benefits of the Freezer Challenge
Photo provided by Lab + at Coventry University
Many of the challenge winners report lasting benefits of their participation beyond the energy saved. More efficient storage has saved staff time each day, and well-maintained equipment has reduced repair and replacement costs. Chuck works with vendors that perform repairs and notes a "significantly large amount of money saved" with fewer bills passing his desk. His office is also the first point of contact for freezer alarms. "There was a visible difference in between January and July [the start and end of the competition] of how many freezers were going down. Labs have been saving money, the research administrator on call gets less calls at 2 AM for failing freezers, because just a friendly reminder every year you should keep your unit healthy, defrost it."
"Each win for us is a win for the future generations."
Adele Guerin, lab manager of the Richard Wood Lab at MD Anderson Cancer Center (winner of a Clinical Lab Award) says that their new sample inventories have been particularly helpful in practice. While her lab conducted a massive freezer cleanout as part of a relocation, she believes the Freezer Challenge is a good annual reminder to clean up sample and reagent inventories regularly moving forward.
Photo provided by the Wood Lab
Deirdre has also found a massive improvement with organized samples and inventories in day-to-day lab work—"It's now a pleasure to go to the minus 80-degree freezer whereas it was a nightmare before, and it was so time-consuming when you're in a hurry." The challenge forced them to review their sample storage policies as well. "And we got to visit [St. Vincent's Education and Research Centre], which we have never been to, so we learned and we made connections, so it was a very positive thing overall."
Other challenge winners were also quick to note the benefits of reviewing their policies, building connections within their organization, and self-reflection. Mary and Diana identify the greatest benefit as "learning about ourselves and evaluating what we can continue to improve upon. We greatly enjoyed this challenge and the experiences and introspection that it brought." Their advice to other lab managers is "to leave no stone unturned. Never stop looking for ways to improve or to conserve resources."
Photo provided by Institute of Cancer Research
Photo provided by Bristol Bioresource Laboratories
Robert recommends using the Freezer Challenge as a tool for just that. "This is a great resource for analyzing what you've done and where you can go next. Not just for sustainability, but just general good practices to ensure optimal sample safety and integrity. Along with regular auditing, it's another way to grow and improve and find your gaps and just get better."
Ayper urges other lab managers to participate in the challenge and other green initiatives. "It's never too late [to get started]." She recommends checking for existing sustainability programs at your institute and contacting My Green Lab. "They're a great resource and responsive. They have good materials that we can share with our laboratories."
Photo provided by MD Anderson Cancer Center
Julie from BCH sums up the challenge neatly. "It's a good reminder for good practices, but also with good maintenance, you are more productive in the lab and you save energy, you save money. So there is no downside, only benefits to participants."
Underlying the challenge for many, of course, is the idea of contributing to the greater good, with several winners referencing a feeling of responsibility.
As Raul sees it, "The biobank has a responsibility to maintain our Human Biological Sample (HBS) libraries … that in our case are donated gifts from patients, in high integrity." He expresses gratitude that, thanks to progress driven by initiatives like this one, best practices for maintaining sample integrity are no longer at odds with sustainability.
"It's never too late."
For the NSW Biochemical Genetics Service lab, Ayper says the challenge was largely symbolic of their efforts towards ensuring a "greener tomorrow." She continues, "We are a clinical laboratory, and diagnose rare disorders. We feel like we are saving lives. So we are responsible for their future also. Each win for us is a win for the future generations."
As for the impact of a single lab, Hyung recalls ancient steppingstones back home in South Korea. A single raindrop doesn't make any visible difference as it strikes, freezes, and dries on the stone. Over thousands of years, though, raindrops hitting that same spot wear a hole in the stone. Where one person may not make a big difference, as more people join the effort, they can change the future.
Interested in participating in next year's challenge or in learning more? Visit www.freezerchallenge.org.
Calculations based on the tool provided by the EPA at https://www.epa.gov/energy/greenhouse-gas-equivalencies-calculator
Lab Manager
About the Freezer Challenge
The International Laboratory Freezer Challenge is a joint program run by My Green Lab and the International Institute for Sustainable Laboratories (I2SL), and is made possible through the generosity of industry sponsors. Our sponsors for the 2022 competition were: Eppendorf, Stirling Ultracold, PHCbi, Elemental Machines, B Medical Systems, Thermo Fisher Scientific, and Haier Biomedical.