Establishing Safety and Performance Standards for Renewable Energy Technologies
With a new lab at the University of Houston, the ESRI conducts fundamental research to understand the safety and performance limitations of renewable energy
The rapid, detrimental effects of burning fossil fuels on the planet's climate have shifted the global conversation toward the development of alternative and renewable energies that produce neither greenhouse gases nor polluting emissions. Rising energy demands, with a projected increase of up to 70 percent by 2040 according to the International Energy Agency, means clean energy development initiatives are vital for combating climate change and limiting its devastating effects.
Despite their emergence among the highest priority solutions for climate change, renewable energy technologies also present their fair share of flaws and risks. A representative example involves lithium-ion batteries, commonly used to power electric vehicles, which are composed of chemicals that pose life-threatening harm if they are not properly manufactured, stored, and recycled.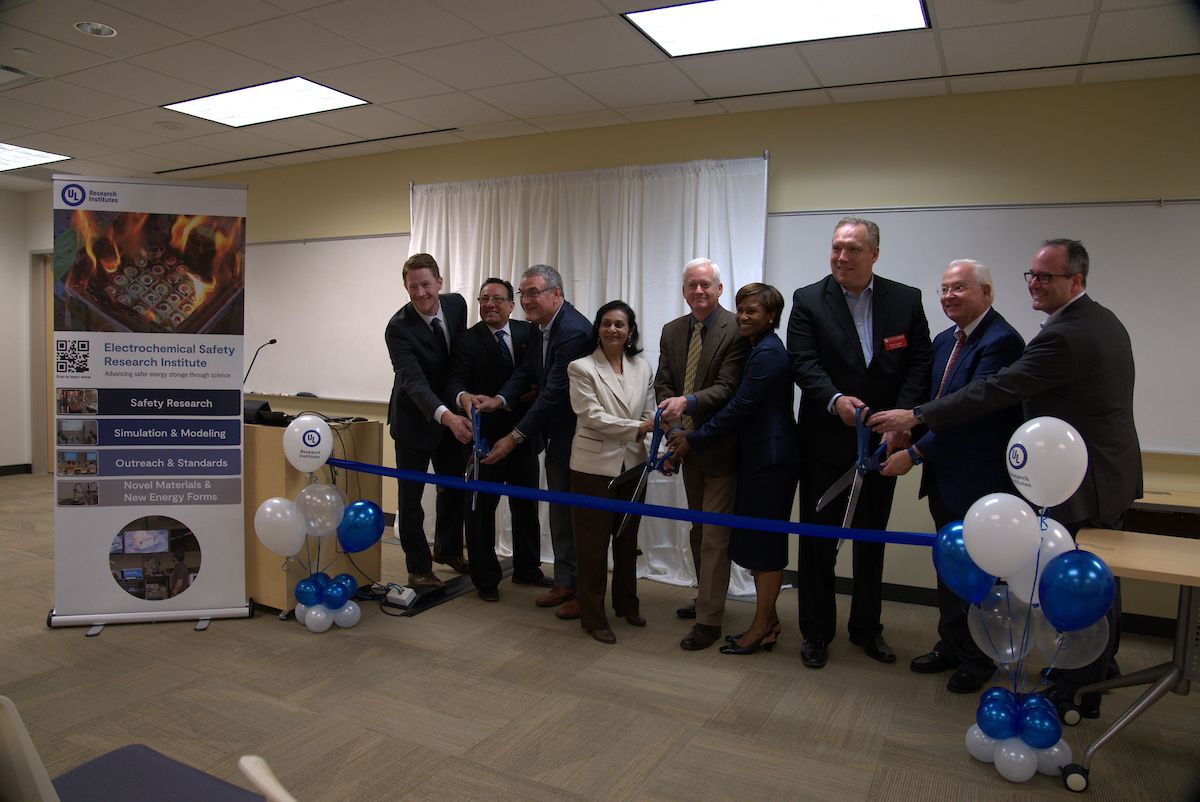 Credit: UL Research Institutes
The Electrochemical Safety Research Institute (ESRI) of the UL Research Institutes (ULRI) conducts fundamental research exploring the safety and performance limitations of renewable energy technologies and how these limitations could be overcome safely. With a focus on the energy storage and battery value chain, which includes cell and battery manufacturers, original equipment manufacturers, recyclers, shippers, and consumers, the ESRI is driven to understand the various safety issues associated with renewable energy storage systems and technologies.
Awareness of the relevant hazards associated with these technologies can help minimize risks and further promote safer practices and innovative products. Now, the 127-year-old global non-profit safety science organization has launched a new laboratory at the University of Houston Technology Bridge (UHTB), expanding its capacity and scope simultaneously in its mission to investigate the increasingly urgent safety challenges surrounding renewable energy technologies.
Setting base at the UHTB
In November 2022, the ESRI opened its new laboratory at the UHTB, a start-up park adjacent to the university's main campus. The Houston laboratory further strengthens ESRI's academic collaborations with the University of Houston on hydrogen research, solid-state batteries, lithium-ion cell recycling, thermal runaway mitigation, micro-USB lithium-ion battery safety, and the synthesis of magnesium-ion separators, to name a few.
Speaking on the standout features of the new lab, Judy Jeevarajan, PhD, ESRI's executive director, says, "Laboratory space is a vital resource for research. Our new lab at the UHTB facilitates this need, enabling the space required for our scientists to do their work and the flexibility to explore various areas of research with our collaborators as well as provide for original research of our own."
Credit: UL Research Institutes
In this measure, several pieces of equipment will be installed. "One of the unique things we will do is to have in-situ analysis of gases with our connected TGA-DSC, GC-TOFMS, and FTIR," says Jeevarajan. "The TGA-DSC (ThermoGravimetric Analysis-Differential Scanning Calorimeter) will allow us to measure the thermal properties of samples like thermal stability, and its connection to the other two instruments gives us real-time monitoring of gases that will come out of the samples under study."
In addition to these systems, the lab will also host the Accelerating Rate Calorimeter (ARC), which can accommodate samples from coin cells to larger footprint cells like those used in electric vehicles. "With this instrument, we can determine specific conductivity and heat capacity and also understand the temperature at which the onset of thermal runaway occurs," says Jeevarajan. "With the ARC, we can collect and analyze gas compositions. We will also have the capability to make our own low-capacity pouch format cells that can be any new novel material including those for solid-state batteries."
Our goal is to advance safe energy storage, but that is not our sole focus.
Alongside other Houston-area researchers who are a part of several key projects with the ESRI, Jeevarajan believes that the university backdrop provides the perfect research environment for greater success. "It is an excellent setting to bring researchers of various backgrounds together and provides us the relevant resources to conduct our research in a collaborative space. We are currently working with two different professors at the university in an opportunity that enables our researchers to work with their students and provide a form of research mentorship while developing an interactive knowledge base that runs between the two facilities."
Building resilience
While the current focus for the ESRI revolves around exploring lithium-ion battery chemistry and its flaws, there is a greater initiative with the Houston laboratory serving as a vital step toward ULRI's commitment to addressing the global challenges of building resilience for a sustainable future.
"Our goal is to advance safe energy storage, but that is not our sole focus," says Christopher J. Cramer, PhD, ULRI's chief research officer. "We have been branching out into some new areas that include the energies themselves such as chemical energy, especially surrounding hydrogen technologies, with some new initiatives looking at hydrogen as a renewable energy storage fuel."
These initiatives form a trifecta of aims that remain the ESRI's current focus, according to Cramer. "One is understanding and testing the ranges within which existing and new prototype batteries can be regarded as safe. What happens when you go outside those ranges? What are the resultant waste products and the dangers associated with them? How can we mitigate this? These questions lead us to our other related aims in alternative battery chemistries and our relatively new focus on hydrogen and the interesting safety challenges associated with this technology."
The new lab at UHTB provides the ESRI with the ideal environment to collaborate with academia while also engaging national labs and other organizations in the private and government sectors. In what is a joint initiative toward assimilating knowledge and expertise on advances in research and innovations in the energy storage and safety space, the ESRI hopes to support the development of new and the revision of existing safety standards that can keep pace with the world's increasing energy demands.
Toward a sustainable future
In their new home at the UHTB, ESRI's research scientists aim to explore the safety and performance limits of diverse renewable energy technologies in efforts to characterize and overcome safety limitations and provide reliable energy storage solutions for a more sustainable world.
Credit: UL Research Institutes
Envisioning a multi-dimensional approach, Jeevarajan states, "The ESRI's focus on public safety surrounding renewable energy technologies also involves working with our educational team to devise educational modules, webinar series, and other resources to widen our audience's knowledge space. The goal here is to not only research safely, but also to use safe approaches to provide for efficient research that we can communicate with the public toward very real goals that can impact the world."
As a useful partner to academia, through their new lab at UHTB, the ESRI is also well aware that their goals require academia as a partner in a collaborative effort toward common goals concerning research on energy storage and sustainability. "ESRI is playing a major role in testing safety, but we are also part of a bigger group of players around the world, in a consortium, if you will, to bring industrial, academic, and policy perspectives together on a platform where we can leverage our mutual strengths," says Cramer.