Introducing Spherical Silica Gel Grades for Flash Chromatography
M.S. GEL™ silicas are highly pure and produced with a consistent spherical shape that provides more homogenous packing, durability, and superior separation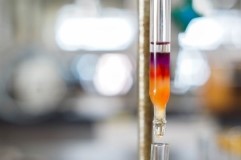 AGC Chemicals Americas Inc.
EXTON, PA — January 18, 2021 – AGC Chemicals Americas introduces M.S. GEL™ spherical silica grades designed specifically for flash chromatography applications. M.S. GEL FC synthetic silica grades are specialized for applications that require low back pressure, good particle size distribution, high particle strength, and reliable performance.
M.S. GEL silicas are highly pure and produced with a consistent spherical shape that provides more homogenous packing, durability, and superior separation.
AGC offers two types of silica particles for flash chromatography: high and low surface areas. Both types are available in particle sizes from 15 to 60 µm, surface areas of 400 to 700 m2/g and 5 nm pore diameters.
For more details, visit the M.S. GEL Fine Silicas for Chromatography information page.