Remote Lab Scheduling is No Longer Optional, it is a Requirement
The current state of lab scheduling during COVID-19
COVID-19 is shining a light on many laboratory operations processes, making organizations prioritize the implementation of new safety measures to ensure the health and safety of their employees. Pre-COVID-19, users could safely share the same areas and laboratory scheduling did, and still does, rely on manual methods such as calendar printouts, paper sign-up sheets, and whiteboards. While these methods are quick and inexpensive to determine available instrumentation and schedule equipment, they are inflexible, tedious, and inefficient. Oftentimes employees stop using them and they cause a lot of wasted time and resources. Post-COVID-19, lab managers and scientists are facing a new and significant type of problem—working and utilizing instruments that are located in close proximity or in the same room to each other.
With organizations enacting social distancing measures in their laboratories, lab managers and scientists need to be able to know, in real-time, if and when their colleagues are using a particular instrument in the same room they also need to access. Additionally, allowing teams the ability to schedule their workdays around instrument reservations while still adhering to social distancing guidelines will help maximize operational efficiencies while limiting potential health risks.
Organizations and employees need processes that are intuitive, easy-to-use, and reflect real-time data and cannot run the risk of miscommunication or failure when it comes to employees scheduling instruments.
TetraScience Scheduling is a purpose-built solution that allows laboratories to schedule not only instrumentation and equipment, but also assign specific devices to users, and the tasks that need to be run on them. TetraScience Scheduling enables full visibility into resource availability, reservations, and maintenance ensuring the safety of your employees while maximizing outputs.
Product features
We've designed TetraScience Scheduling with the idea that planning out your experiments and lab resources should be the easy part. Here are some of the top features that we hope will improve both your daily workflow as well as provide key insights into your resources, especially now when it matters most.
Dynamic calendar
See what's happening in your lab at a glance with our dynamic calendar view. TetraScience Scheduling displays real-time availability of your equipment as well as the metadata associated with reservations and instruments.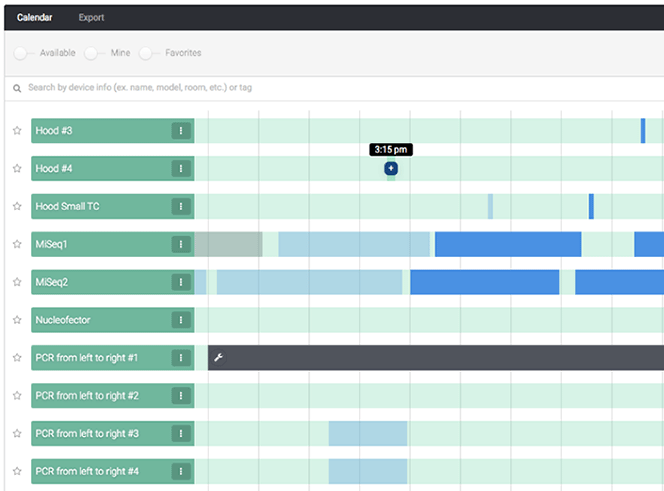 Instrument metadata
As with our Lab Monitoring product, all instrument metadata is easily searchable. You can quickly find your preferred instruments by name, instrument type, location, and more.
One-click reservations
Create reservations or block out time for repairs and preventative maintenance with a single click. Drag your cursor for your desired time window, or simply type it in for fine-tuning.
You can also mark a broken instrument as out of service. This immediately changes the status of the instrument for everyone in your organization to see, preventing additional bottlenecks for your fellow labmates.
Operational reporting
Dive into your scheduling data to surface the operational insights most important to you. Track project progress and understand which instruments are out-of-service the most. Using the Logbook, you can export CSVs containing reservation metadata to create flexible reports using Excel or the reporting tool of your choice.
Get a demo today!
Spend less time planning and more time doing. Get a demo of TetraScience Scheduling today.