Antibodies, also known as immunoglobins, are produced by immune B cells in response to foreign molecules called antigens to neutralize them. They are used for numerous applications in biology and diagnostics. Attributed to their molecular recognition properties, antibodies are a popular tool in biological experiments. They are widely used in experiments to identify, isolate, and quantify specific protein antigens to understand their roles in physiology and diseases. Some examples include western blot analysis, immunostaining, and flow cytometry.
Reduced antibody specificity, due to batch-to-batch variability, or antibodies that bind the wrong targets lead to poor experimental reproducibility and can result in data misinterpretation and wasted resources. It is, therefore, important to check that the antibody is specific to its target antigen.
In this infographic, you'll learn about:
The pitfalls of not validating your antibodies
Antibody validation questions for the vendor and researcher
Recommended methods and controls
And more!
Download this infographic now to learn about the importance of validating your antibodies.
Validate your Antibodies
Antibodies are among the most common reagents in both research and clinical laboratories for:

Western Blotting

Immunohistochemistry

Quantitative Immunofluorescence

Enzyme-Linked Immunosorbent Assays

Immunoprecipitation

Chromatin Immunoprecipitation

Flow Cytometry
It is estimated that there are more than 300 antibody companies that sell over2 million antibodies for the research and clinical markets (www.antibodyresource.com/onlinecomp.html, www.citeab.com). When it comes to research use, there are no standard guidelines in place for manufacturing, validating, and using antibodies.
Pitfalls of not validating your antibodies:
Incorrect, misleading data

Irreproducibility
Antibody Validation Questions for the Vendor (ask your vendor):
Is a data sheet supplied describing the antibody and its intended target protein, immunogen source, animal host, recommended applications, recommended starting dilutions and buffers, relevant protocols and references?
Are data supplied for recommended or qualified applications, and is there a description of the methods used to validate the antibody for those applications?
Are the validation data lot-specific?
Are recommendations given on the proper use of positive and negative controls?
Has the antibody been tested against endogenous protein?
Is the antibody made and tested in-house by the vendor or by a third party?
Are references and citations provided to corroborate stated claims?
Is technical support offered for this product?
Antibody Validation Questions for the Researcher (ask yourself):
Has the antibody been shown to react with my species of interest?
In cases where the epitope is defined, is the epitope conserved with the protein in my species of interest?
Can I use my own lab protocols or must I use those recommended by the vendor?
What is the concentration of the antibody?
Have I included appropriate positive controls (nonexpressing cells transfected with the protein of interest, protein-overexpressing cells, cells treated with target activators) and negative controls (cell line or tissue that does not express the protein, knockout cells, siRNA or shRNA knockdown controls, cells treated with target inhibitors)?
Should I aliquot the antibody?
What is the shelf-life of the antibody?
How should I store the antibody?
Have I kept track of all the relevant information pertaining to the antibody such as vendor name, lot number, product number, expiration date and such?
Is the antibody from the same lot that I used previously? Have the recommended dilutions changed? Does it perform similarly to the previous lot in my assay?
When purchasing an antibody, do not depend solely on:
- The vendor's word
- Western blot WB evidence claiming a single band migrating at the predicted molecular weight
The ultimate responsibility for the validity of the antibody lies with you, the purchaser, not the vendor!
The MOST IMPORTANT question to ask yourself:
Does the antibody recognize its intended target in my assay?
Varying degrees of validation can be applied depending on the application in which the antibody will be used.
For example, a clinically geared immunohistochemistry assay will require a high degree of antibody validation at multiple levels:
A single band detected in western blots of sample lysates or immunoprecipitations

at the expected molecular weight.

The single band in WB and the signal in immunofluorescence as is diminished by RNAi or absent in negative tissue or cell lines.

Staining is localized, specific and consistent with the literature.

The antibody results are reproducible between lots, runs and persons.
Recommended methods and controls to determine if an antibody is recognizing its intended target: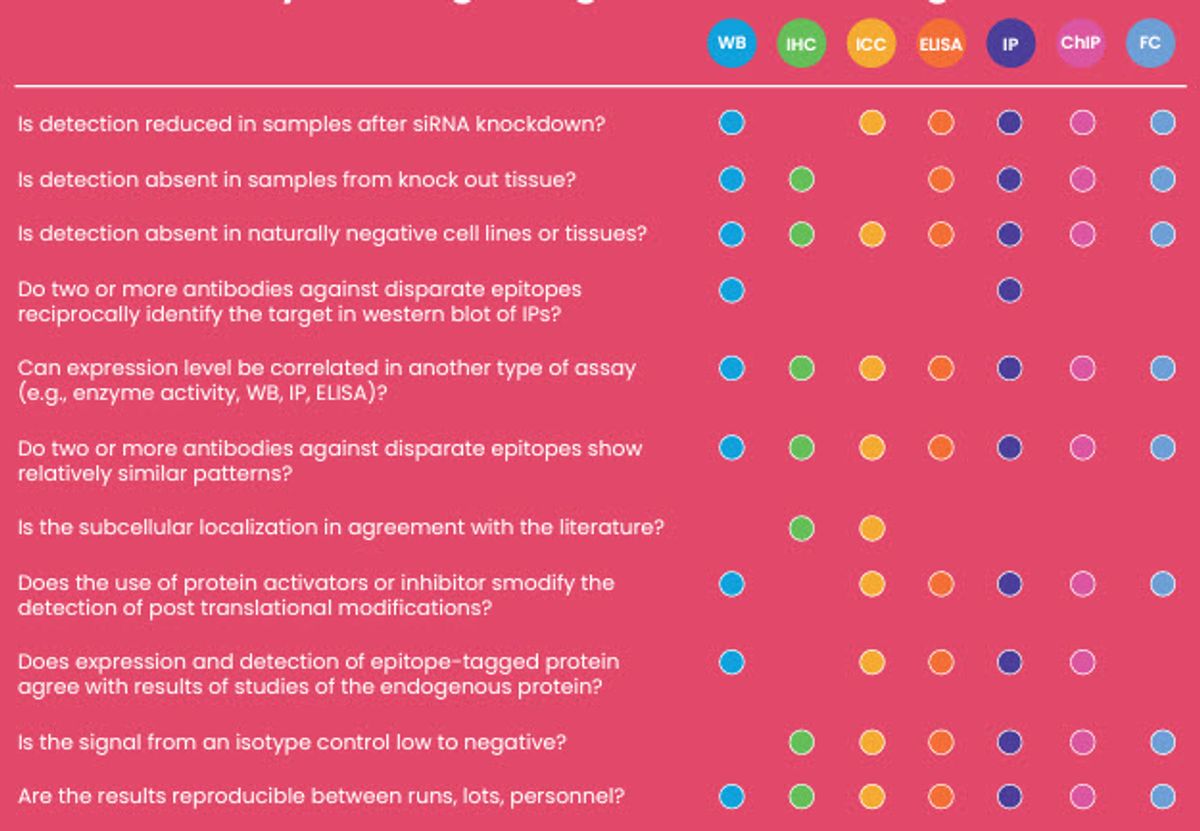 SPONSORED BY Fortis Life Sciences