One Man's Passion Transformed the Paper Industry as We Know It
How early innovations from the founders of a well-known lab brand changed the face of paper
Most stories end with a marriage but the story of Whatman™ paper begins with one when James Whatman, a tanner, married Ann Harris, owner of a paper mill, sparking nearly 300 years of innovation. The Whatman™ papermaking enterprise, beginning with James Whatman and his son, changed the paper manufacturing industry forever.
THE INVENTION OF 'WOVE' PAPER
In 1726, James Whatman inherited his family tanning business, but a passion for paper led him to work with trusted friend Richard Harris, building a paper mill that Harris would run and financing Harris' later purchase of Turkey Mill. Harris passed while rebuilding Turkey Mill. In 1740, Whatman married Ann, Harris' widow, and they completed the mill project together. Whatman quickly built a reputation for high-quality writing paper, which was favored by aristocrats and government officials as early as the 1740's. By the 1750's, Whatman's printing paper was sought after by high-end publishers.
Typesetters and printers of the day faced a great frustration with the existing 'laid' paper. Paper was molded using parallel wires, sporting pronounced ridges that were difficult to evenly imprint and caused ink to run and pool. John Baskerville, working on a new typeface still popular today, approached Whatman in his search for smoother paper that would better showcase his bold typeface and flourishes with crisp, clean lines. Whatman dove into the challenge, designing a new mold of woven wire capable of producing perfectly uniform sheets of 'wove' paper—a principle still used in manufacturing paper today. Baskerville introduced Whatman's wove paper to the world in his 1757 quarto edition of Virgil with his own typeface design, an accomplishment landing him the role of printer to the University of Cambridge.
Whatman continued to experiment with and refine wove paper until his death in 1759. Gelatin baths made from hooves and bones added strength and decreased absorbency, making his paper highly sought after by the artist community, to whom it provided resilient, blank canvases that enabled new techniques. The evenly translucent sheets were equally desired by type designers who could imprint delicate, complex designs with a light touch.
CONTINUING THE LEGACY OF INNOVATION
After Whatman's death, Ann ran the mill until their son, James Whatman the younger, turned 21 and took over the family business. He shared his father's passion for innovation. Notably, his power optimizations of machinery enabled widespread industrialization. He further refined paper by introducing chlorine to bleach colored cloths for pulp and blue smalt to brighten whitepaper. He also developed a lever system to produce sheets of paper far larger than the arm-span width previously possible.
Using his new lever system, Whatman produced the 'Antiquarian', a 53 by 31 inch sheet commissioned by the Society of Antiquaries in 1772 for a copper-engraving of 'The Field of the Cloth of Gold'. Antiquarian sheets were soon in high demand by engravers across Europe.
After Whatman suffered a severe stroke in 1790, his apprentice and assistant of nearly 20 years, William Balston, took over management of the mill. England was hit hard in the early 1790's by an economic downturn and labor unrest, leading Whatman to sell Turkey Mill and give his protégé £5000 to buy into the new firm. In 1805, the firm split and Balston moved to Springfield Mill to carry on producing paper in his mentor's style under the Whatman name, with his own sons continuing the tradition. Whatman production at Springfield Mill continued until 2014.
From the 1930's Whatman™ has become a trusted name in science, continuing through the years to drive innovation. A more modern example of Whatman™ innovation is the Anopore™ aluminum oxide filter membrane with densely spaced, extremely precise pore sizes. The chemically unreactive, high-purity alumina matrix minimizes ion leaching and other sample contaminants, making it ideal for a wide spectrum of applications including bioprocessing, semiconductor research, media sterilization, high-performance liquid chromatography (HPLC), and liposome extrusion. Anopore™ filters really shine in culturing and microscopy, however. They support cellular growth and are virtually transparent when wet, meaning you can observe undisturbed cells directly on the filter under the microscope. The conductive matrix can be carried through scanning electron microscopy as well.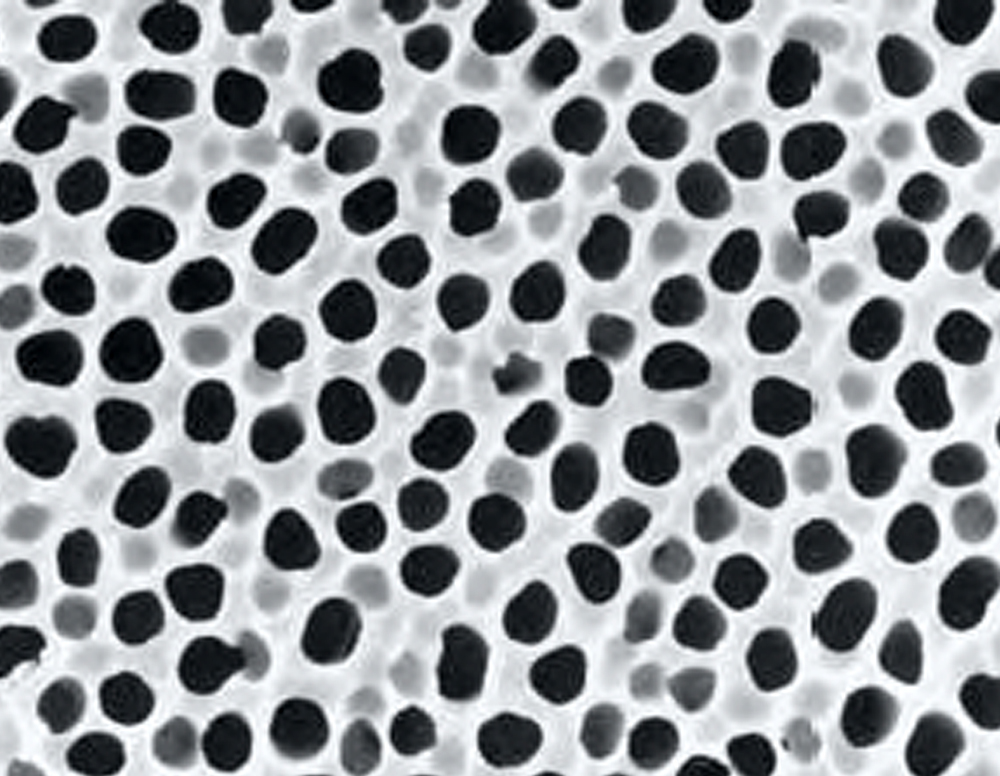 Cytiva
PAPER—THE UNSUNG HERO OF MODERN SCIENCE
From weigh paper and Benchkote™ surface protector to HEPA filters for biological safety cabinets, Whatman™ products are ubiquitous in any lab setting, so it's no surprise they are regularly co-opted for creative and new applications. The iconic Whatman™ Grade 1 qualitative filter paper, a commonly used "general purpose" filter, was used by Consden, Gordon, and Martin in 1944 to develop paper chromatography. Other creative applications over the years include skin graft tissue cultures, genetic disease testing, radiation and toxic gas detection, moisture tests for aircraft fuel, gunpowder residue testing, and water-proofing parachute activation systems.
Following a series of mergers and acquisitions beginning in the 1970's, Whatman™ is now part of Cytiva, a Danaher company. The current Whatman™ filter portfolio is designed to ensure measurement validity and data integrity across applications including pharmaceutical quality control, diagnostics, environmental monitoring and testing, life sciences, and the food and beverage industries.
James Whatman's passion for innovation left an indelible mark on the world through innovations in paper manufacture, a legacy that lives on to this day.
To learn more, visit Cytiva Life Sciences.