Innovative Lab Design for Collaborative Researchers
Caltech Chen Neuroscience Research Building wins Excellence in Innovation prize in 2022 Design Excellence Awards
Neuroscience is a historically underserved area of research, so in recent years the science and technology industry has prioritized funding to address life-deteriorating diseases such as Alzheimer's and Parkinson's. The California Institute of Technology (Caltech) has also answered this call with a facility aimed to position critical resources in one central location so that they can collaborate on initiatives to advance neuroscience research.
The Tianqiao & Chrissy Chen Neuroscience Research Building, completed in October 2020, incorporates neuroscience itself into the design, with the design team working closely with researchers to visualize just how humans would think and feel while working in the laboratories. The goal of the project was to develop a layout plan that would evoke a physiological response from the visual influences and design decisions of the facility, thereby support innovative research and collaboration between those working in the labs.
At the heart of the building is the ideas that these scientists are going to have.
For designing a lab facility that encourages innovative ideas and spurs groundbreaking neuroscience research, Lab Manager has awarded SmithGroup with the Excellence in Innovation prize in the 2022 Design Excellence Awards. SmithGroup served as the architect, laboratory planner, and sustainability and interior design firm for the Caltech Chen Neuroscience Research Building in Pasadena, CA.
Breaking down silos to promote collaboration
The Chen Neuroscience Research Building was designed as a world-class research facility to accommodate customized labs for researchers across many disciplines. Singaporean philanthropists and media moguls Tianqiao Chen and Chrissy Luo found themselves inspired by a BBC television feature about Caltech neuroscientist Richard Andersen, who developed a brain-machine interface that enabled a patient with quadriplegia to control a robotic arm via thought. Chen and Luo traveled to Pasadena to meet with Andersen, and eventually presented Caltech with one of its largest gifts to date to fund a center for neuroscience innovation. This building brings together scientists who were previously located in brain-research programs across the Caltech campus. These new research neighborhoods for the Division of Biology and Biological Engineering support specialties including bioengineering, medical engineering, and translational medicine, with advanced tools and techniques to further understanding of the brain.
Credit: Randall Howard
Dismantling physical research silos was integral to this project to encourage innovative research, says Mark Zajdzinski, senior project architect, SmithGroup. "You have neuroscientists talking to biologists, and different cross-discussions that normally wouldn't happen."
The design plan for the Chen building translates into developing new innovators, namely by encouraging mingling and thought sharing between researchers who normally wouldn't interact otherwise. The "nucleus" of the building was designed to be a central hub for collaboration, focused in a creative and informal atmosphere, with offices and conference rooms situated near the research spaces. "It symbolizes the power of collaboration and visually connects people in order to inspire and bring ideas together," says SmithGroup in their Design Excellence Awards entry.
"To me, it's about this core, this nucleus, and the idea of cross-collaboration with principal investigators (PIs) from a variety of different sub-specialties or sub-interests and different disciplines that come together in the middle of this building. And that's the idea behind spurring collaboration that will drive innovation. Whatever that next invention or technology is, or whatever it is, that comes out of this building—it's because of that," says Sandro Bressi, principal-in-charge and southern California science & technology studio leader at SmithGroup.
Credit: John Linden Photography
Future-proof design
Advancements in research and technology start with the right people developing the right ideas, even if those ideas change quickly. The floor plan of the Chen Neuroscience Research Building was designed so that suites could be emptied and completely redesigned to exact specifications should a handover between different PIs occur as research advances. The floorplates allow for large-scale equipment to be brought in or removed easily, and wet and dry labs are interchangeable to adapt to different specialties thanks to the supportive infrastructure and systems capacity. The piped utilities and gases in labs are arranged in a flexible setup to accommodate multiple configurations using mobile base cabinets, adjustable tables, and ceiling service panels.
One challenge was designing labs that can meet the distinct needs of current researchers while still offering options to accommodate future researchers without costly and time-intensive facility overhauls. "Neuroscience is sort of a different animal in the sense that it requires different types of support. Every single researcher will have different types of requirements that differ from one to the other," says Alex Munoz, senior laboratory planner, SmithGroup, on why communication with researchers and facility management is so crucial to the beginning stages of the design process. "The needs are so specific, you have to go really in-depth to really understand the way that they work in order to translate that into a design that works…in doing so, it is a challenge because it's not a cookie-cutter approach. It's very customized, yet it has to be somewhat of a flexible space—if that PI leaves, it can be repurposed into something else."
Credit: John Linden Photography
The design team held months of "nonstop meetings" with PIs to walk the space, and understand the way that research is conducted and transformed. "Since research changes so quickly, being able to build and design facilities that can adapt to the research as the research is changing and evolving is very important," he says.
Leading with innovation
Being a thought leader when developing a progressive, future-proof design for a lab can be a challenge, says Munoz. Researchers may be reluctant to change the way they've always done things or to move to a smaller lab space. Project team leaders must employ innovative strategies and clear communication to help researchers be comfortable with their new surroundings.
"One of the biggest challenges you'll find is the cultural change that happens when you have to explain to PIs that they are going to have to adjust the way they work. Their first reaction is that 'change is not good,'" he says, noting that it's important to communicate to researchers how a different design plan will benefit their work. "We're giving them efficiencies and physical spaces that are going to improve the quality of life [and] expedite research. The innovative process that we bring is this cultural change and this approach that we're working with them to understand the science and where we think it's heading."
Credit: John Linden Photography
It's hard to say what the future holds for neuroscience research, but the SmithGroup team is confident that they've equipped the Chen building and its researchers to handle any changes or advancements that might come their way.
"I don't think anybody knows where things are heading; neuroscience changes every day. It's not repetitive," says Munoz. The open floor plates and moveable casework, he adds, are integral to science facilities such as the Chen building where the research is constantly changing and growing. Developing typical lab spaces into specialized suites is possible thanks to good design and infrastructure. "And I think that for the first time, you're actually going to see more spaces flexing and moving to react to the science and the changes that are happening," he says.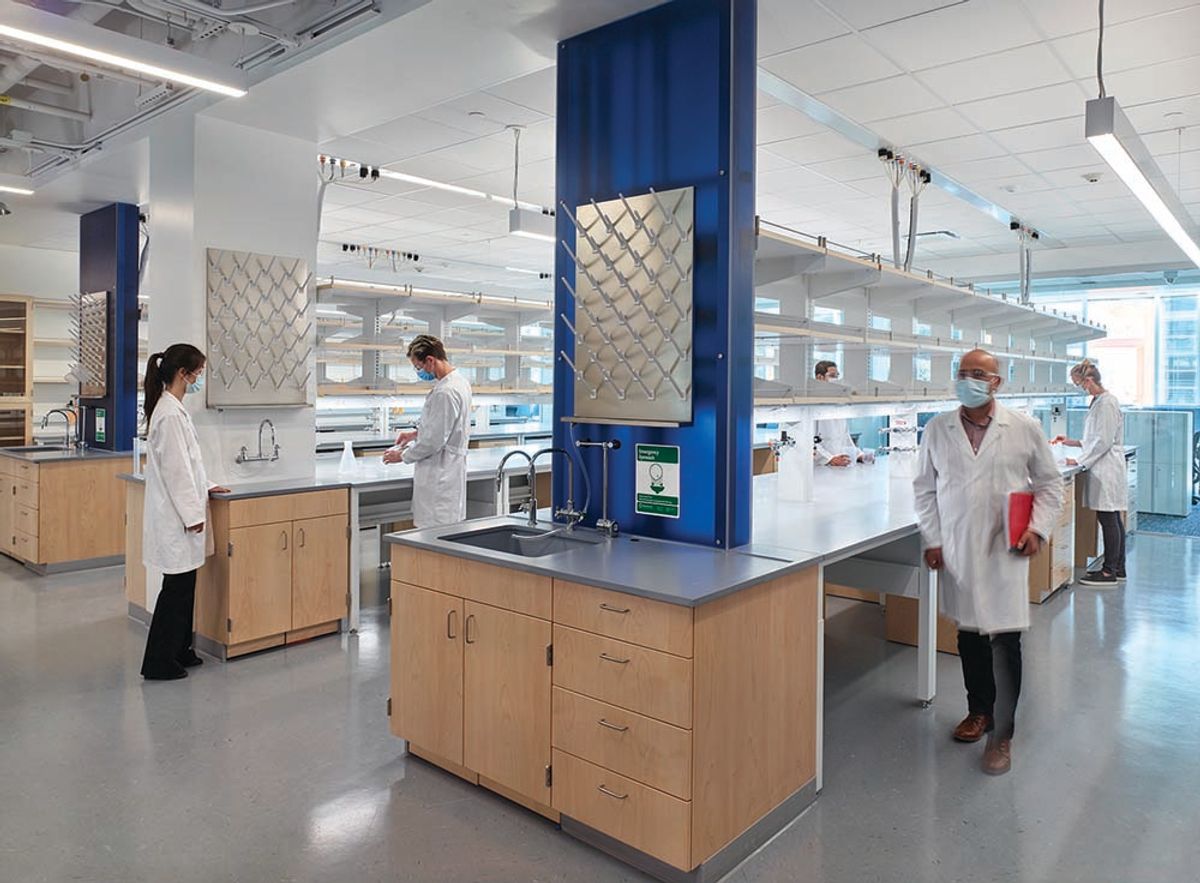 Credit: John Linden Photography
"At the heart of the building is the ideas that these scientists are going to have," says Francisco Owens, design principal with SmithGroup, adding that pushing every square inch of the space to its limit in terms of use and flexibility is what spurs innovations and advancement. "Part of creating a place that will continuously inspire and…be a cultivation of innovation is with the architecture and having places that people, when they're together, are just in a better frame of mind. They have the choice to be in spaces that really facilitate the frame of mind they want to be in. I think that was one of the most successful things—when you really look at every corner of the building, there's a very deliberate reason why all these things are in every part of it."