'Team Science' at the Forefront at Argonne National Lab
The people, ideas, and strategies that help run Argonne National Laboratory
As one can imagine, the site of Argonne National Laboratory is impressive, and even overwhelming. The Department of Energy (DOE) national lab, located outside Chicago, IL, is comparable to a community or small city. The campus encompasses thousands of employees and visiting researchers, hundreds of buildings, offers on-site housing, a health clinic, and more. With so many moving parts, research teams with unique needs, and an abundance of buildings to care for, how is it all managed while keeping scientific innovation at the forefront?
In large part, with Argonne lab director Paul Kearns at the helm.
Leadership and management strategies
Kearns is quick to credit his leadership team and the rest of the staff at Argonne for its success. Kearns, who has been director at Argonne since November 2017, was recently recognized as 2020 Laboratory Director of the Year by the Federal Laboratory Consortium (FLC). The award "honors laboratory directors who have made major contributions to the overall enhancement of technology transfer for economic development, including support of FLC activities, internal accomplishments, industry involvement, and community service," states the FLC.
Argonne National Lab
"The way science is done these days is really 'team science' with collaborators from other national labs, academia, or industry," Kearns says—and team dynamics at Argonne play a pivotal role in how the daily operations and research are conducted. Kearns ensures that time is invested in executive team development programs, which are typically offered to Argonne lab leaders two to three times per year. "Our strength is our diversity; it helps drive new ideas and performance," says Kearns.
Additionally, Kearns pinpoints a few key traits that he looks for in his staff; whether they are new hires, or those being evaluated for advancement. The first of which? "Self-awareness—understanding who you are, [and] the situation you are in is a good attribute for strong leaders," says Kearns. Being receptive to feedback from others is another important trait, as well as being open to change. "I like change, but not many people are like that," Kearns jokes. Lastly, good leaders should value their teams, and embrace team culture.
Kearns has evolved as a leader himself in the three years he has been director at Argonne. One of his most significant accomplishments thus far has been establishing a set of core values, and setting up a program to draw attention to peers who exemplify those core values. "We've had about 3,000 employees recognized by peers in the last few months for living up to those values, which creates a collaborative energy around the laboratory," Kearns says.
When running such a large lab, it is easy to become disconnected, focusing primarily on "big picture" priorities and losing sight of what occurs in the labs on a regular basis. To prevent this, Kearns hosts "Conversations with Kearns" on a bi-weekly basis. The concept is simple: "Just me, employees, and coffee," he says. It is also a concept that any lab leader, regardless of the size of their lab, can implement to become more aware of the needs of their facility and staff. The event is an open forum, and Kearns meets with different sections of the Argonne campus each time to hear any concerns, interests, or feedback. "Over time, the conversations have gotten more open with what people are willing to share with the director," he says. Equally important to hosting these events, though, is actually acting on the feedback he gets.
Supporting research
When thinking about a national lab like Argonne, most people typically first envision those at center-stage of the cutting-edge research—the scientists working in the lab. Though not usually in the spotlight, there are a variety of other teams working hard to ensure the infrastructure and all resources are in place for the scientists to conduct their important work.
Argonne is divided into four science directorates, each with its own "mini" chief operating officer (COO), as Dan Carlson, energy and global security COO and experimental operations and facilities division director, describes. Carlson's role includes overseeing all the day-to-day operations that help support the research taking place at Argonne within his directorate.
ARGONNE NATIONAL LAB
Carlson helps to set goals each year for the human resources, finance, administrative support, facilities, quality, and safety divisions of his directorate. One way he and his team decide on these goals is by asking each division, "If there were one or two things that you could ask of us to do, what would those be?" explains Carlson. "Amazingly, a lot of the input did align, making it easier to come up with specific goals to make things more efficient."
Enabling researchers to work at their best is a main focus for Carlson and his team, but it comes with its own set of unique challenges. "At a national lab, the scale of everything is larger. We're not just working with a small batch of chemicals; we're working with everything known on the planet. From an operations, safety, and even waste management standpoint, it is much more challenging to think about all those [factors]." This diverse set of challenges on a large scale has driven the need for the appropriate level of expertise at the campus, Carlson notes, not just on the research side, but on the operations side as well, to back up the research.
On the flip side, working at a national lab means you get to be on the cutting edge of research and discovery, Carlson adds. "We have our hand in so many different things; there's something new and exciting happening here everyday. There's also a strong sense of mission here—you do feel like you're supporting the country in some way [toward the] 'greater good.'"
The Advanced Photon Source
One of Argonne's most sophisticated and impressive assets, the Advanced Photon Source (APS) facility, is also likely one of the most difficult to maintain.
ARGONNE NATIONAL LAB
The APS is the US DOE's largest X-ray light source research facility in terms of the number of researchers who carry out experiments utilizing the highly energetic X-ray beams produced. Nearly 6,000 users—who come from all across the US, Puerto Rico, and internationally—visit the APS each year to conduct experiments crucial to their research. The capabilities of the APS appeal to a wide variety of scientific disciplines, including materials science and engineering, life sciences, earth science, environmental studies, chemistry, physics, and polymers. Dennis Mills, deputy associate laboratory director for the Photon Sciences Directorate, highlights a few examples of the unique samples that have been brought to the APS over the years, such as dinosaur bones, mummies, and cultural artifacts. These samples are unique in that they are not everyday materials typically examined at the facility, but certainly ones that are easily relatable. The goal with these samples is to verify their age and structure.
The APS' powerful, invisible light is ideal for studying the arrangements of molecules and atoms, and for witnessing chemical processes at the nanoscale level. It produces extremely bright, focused X-rays that peer through dense materials and illuminate the structure and chemistry of matter at the molecular and atomic level. As a comparison, the X-rays produced at the APS are up to one billion times brighter than the X-rays produced in a typical dentist office. There are 68 beam lines, meaning many experiments can run at the APS at a given time.
The facility operates 5,000 hours per year. Every Monday, a controlled shutdown takes place to allow for regular maintenance. Additionally, for every three months it is running, the APS again takes a one-month hiatus. Mills reiterates that preventive maintenance is key to keeping the APS up and running continuously for the thousands of users who rely on it. Operations at the APS first began in 1996 with an investment of $500 million, so Mills and his team now have years' worth of data to help them diagnose problems, and have a good sense of what parts of the APS typically malfunction. This knowledge enables intelligent preventive maintenance strategies.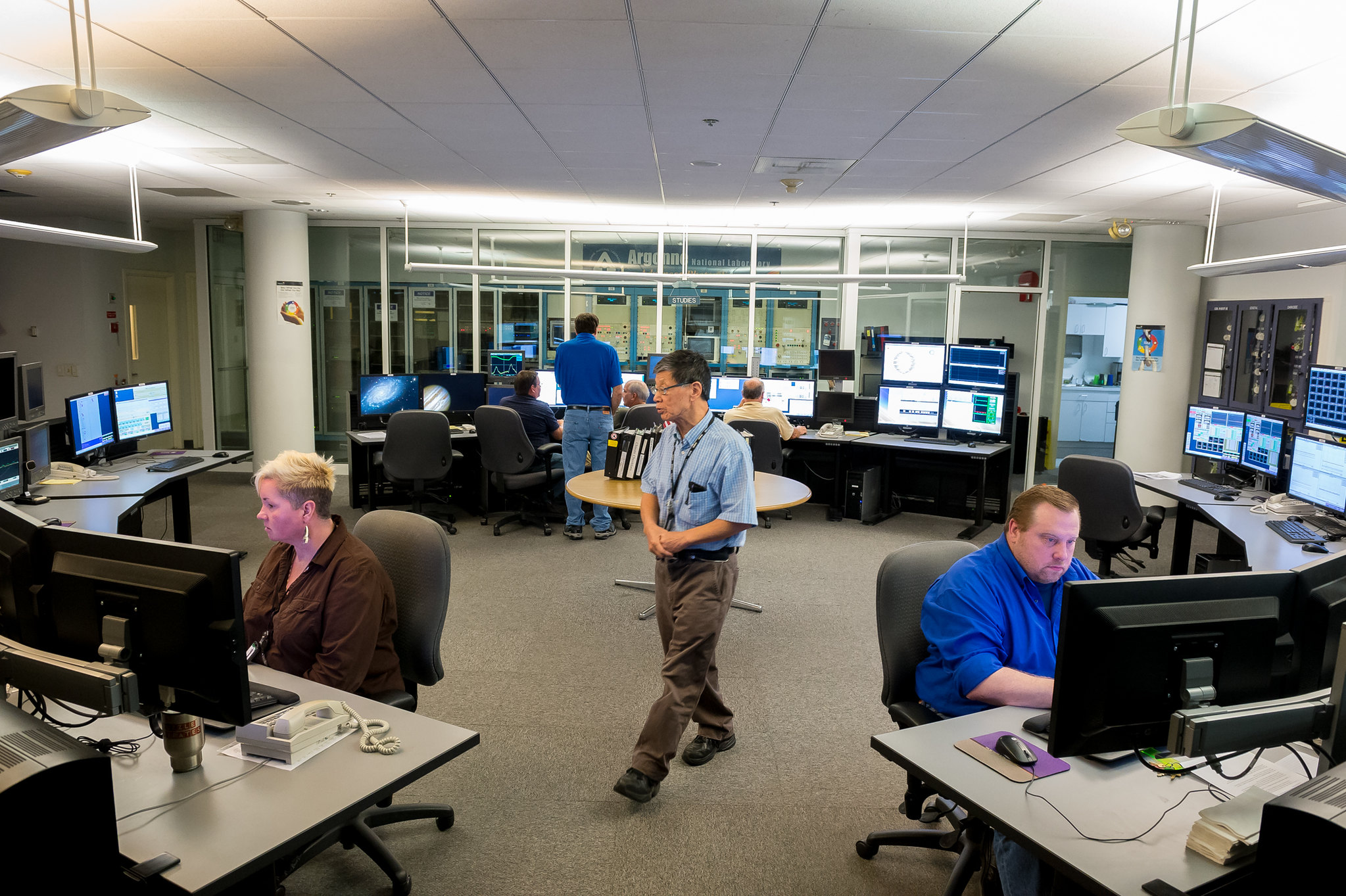 ARGONNE NATIONAL LAB
As if managing a facility of such complexity on a regular day wasn't enough, the APS is due for an upgrade. The upgrade project will involve replacing the 1.1-kilometer circular storage ring, and updating X-ray beamlines and other equipment that will create a more powerful facility. As a press release on the project explains, the APS-U storage ring will feature a new design, a multi-bend achromat lattice, with many more bending magnets and magnet-focusing cells than the present machine, resulting in brighter X-ray production.
"The APS upgrade will allow researchers to see things at a scale they have never seen before with storage-ring X-rays. We'll be able to look deep inside real samples, such as biological organisms, and observe atoms moving in real time. Such extreme levels of detail will open new frontiers and discoveries in basic science and help solve pressing problems across a wide range of industries," says Robert Hettel, director of the APS upgrade project, in a press release. The project is scheduled to begin in June 2022 with the goal of completion within one year. The European equivalent of the APS facility—the European Synchrotron Radiation Facility—recently completed its own similar upgrade, so Mills notes that the Argonne team can expedite the project by learning lessons from its European counterpart.
Continuing to evolve
ARGONNE NATIONAL LAB
In addition to the APS upgrade, Argonne also intends to improve its supercomputing system, with the delivery of the Aurora supercomputer in 2021. Aurora will be 100 times faster than the lab's current supercomputer, and will be capable of performing a quintillion calculations per second. Its vast capabilities will enable Argonne researchers, as well as visiting users, to conduct projects unable to be performed elsewhere in the world.
Kearns is excited about these near-term upgrades to Argonne, but he is also focusing on long-term needs. He has launched an "Argonne 2050 visioning effort," asking his leadership team to envision the world in the year 2050, and challenging them to determine how Argonne can position itself to offer the right solutions to the world's needs at that time. "This will set the course in the investments the lab makes today," says Kearns.