Informatics
eBooks, Infographics, & Videos
Modern informatics systems come in a variety of different types and configurations to suit any researcher's needs...
Purchasing & Maintenance
Product News & Resources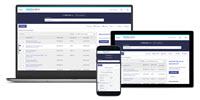 Informatics Product Spotlight
Your Science–Instantly Available, Always Collaborative.

Learn how you can benefit from PerkinElmer's Signals™ Notebook, a cloud-native electronic lab notebook and scientific platform developed for today's scientists.
Elemental Machines Sensory Network Platform

Cloud-based, automated, 24/7 data collection for laboratory environments and lab equipment, such as incubators, lab balances, refrigerators, and freezers.
One device. Unlimited possibilities.

Whether monitoring the temperature of samples or performing R&D testing, MadgeTech's Titan S8 provides instant access to readings. Analyze data in real-time on its 5" touchscreen display and record it for future reporting and compliance, no PC required.